Home renovation can be a great way to improve your living environment, increase the value of your home, and show a little creativity. To help you get the process started, we have a few tips, tricks, and suggestions for the renovation process for what you can do with your house. Remember you are only limited by your budget, time, and your imagination.
The first step in the renovation process is to decide what you want to change. For sake of ease, make a list and divide your ideas by room/area of the house you want to change. This will help you make design decisions that fit in with the rest of the room. A list of your planned changes not only help you keep track of what needs to be done, it will also help you communicate to any contractors or designers you might decide to bring in.
While you think about the changes you want to make to your home, here are some tips and tricks for making design decisions:
Neighborly Inspiration
Lost for ideas? Find similar houses in your neighborhood and see what other people have done with their homes. If you don't know them well and are too shy to get a look inside, take note of what they do with their front yard or the facade of the house. You might find a gorgeous front door or a basin design you want to adapt, and you can even ask the owner where they got the materials and how they implemented the design.
Costs
Constantly think about the costs associated with what you want to change. There's no point planning an entire room before realizing restoring the timber floor could cost too much. Alternatively, you could plan to restore the timber floor in the future. A renovation of your home does not have to be done all at once. It can take several stages over months or years to complete your dream house.
Human Resources
Decide on whether you want to hire a designer and/or a contractor. Working with a designer and a contractor still puts you in charge, but they can make sure you don't make any mistakes. Also, it's always nice to bounce ideas off people who really know home renovation. If you would rather not pay extra money for a contractor, you can also just hire subcontractors who you will have to manage and coordinate.
If you are good with your hands and decide not to hire any contractors, you may want to simplify some of your design ideas. It will be more expensive to fix an accident implementing a complicated design than hiring a subcontractor to implement it for you.
Still lost on how you want to improve your home? Here are some ideas to help you start thinking: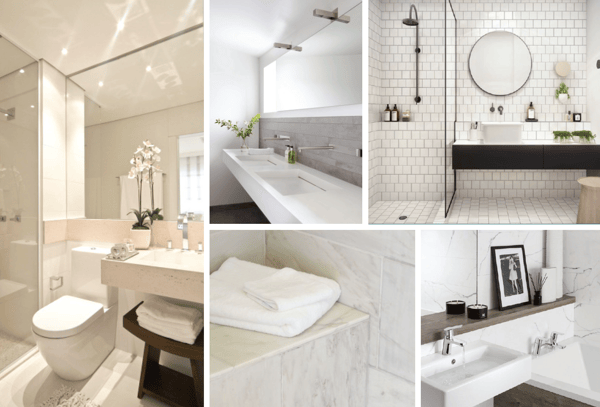 Mongolia Properties' Circus Residence I has bathroom sinks built into the counter top, giving it a smooth, continuous look.
For the Bathroom:
For a nonslip floor, use matte or textured tiles.
To store shampoo without an ugly caddy, add a cubby hole in your shower.
Build the sink into your countertop or achieve the same look by using the same material for your countertop and sink.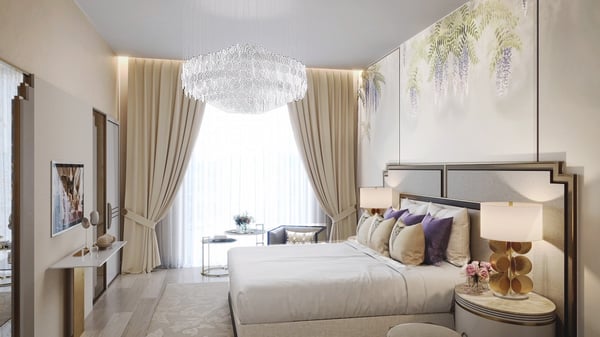 The headboard in Mongolia Properties' Circus Residence I uses a headboard to fill up the wall space and makes the room look more impressive.
For the Bedroom:
Add a headboard to your bed to make it look fancy
Buy a houseplant to remove toxins from your sleeping space
Add wallpaper or paint one wall to create an accent wall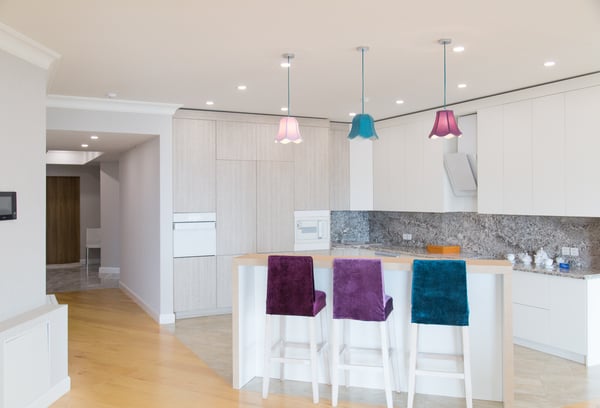 Mongolia Properties' Olympic Residence apartments have bars connected to the kitchen island to provide more sitting space.
For the Kitchen:
Use track lighting to create ambience and task lighting for visibility in work spaces, such as above the stove
Add a kitchen island with cabinets all around to increase storage space
Change the countertop material - marble, quartz, or wood are good choices
In Olympic Residence's large living rooms, rugs are used to create separate spaces within the room.
For the Living Room:
Use rugs to define areas within the large room
Change the curtains for a more transparent one to let in more light
Add a tall reading lamp for nightly reading on the couch
After you have a list of specific changes you want to make to your house, think about ordering them. Home renovations have a general order that you should follow to minimize costs and keep a safe home. You also need to keep in mind that some materials may take time to be delivered. Be sure to build a buffer into your plan for unexpected delays.
Every major home renovation should start with hiring a chartered surveyor to assess your property and identify necessary repairs. The surveyor's job is to find anything you need to fix to make sure your home will stay safe and clean. If you skip this step, your house might have structural problems, such as infestation, dampness, or drainage problems, that will ruin your renovation. This step is more important if your house has been empty for a while.
Next, you should make any major changes to your house. This could be extending the house or knocking down a wall. At the end of this step, make sure the interior of your house is protected from weather. (Fun fact: In Mongolia, this step must finish before the end of summer so contractors can work on the interior during the colder months.)
Finally, you get to work on the fun details of your house. These are the smaller design changes you want to make, like changing bathroom tiles or adding new curtains. Watch your design come to life as the final touches are put on your home.