Repair, reform, rebuild: Steppe-change
Executive Summary
264% increase in value of coal exports in May compared with May 2016 (NSOM)
A doubling of the volume of gold exports in the same period (NSOM)
Rio continuing planned investment and commencing further exploration activities
Active Mongolian participation in the Chinese 'One Belt, One Road' initiative
Recent election of new President, Khaltmaa Battulga, after a run-off election
Strong demand for residential real estate in Sukhbaatar, with strategic opportunities in Khan-Uul and Chingeltei
Improved credit ratings from Fitch, Standard and Poor's (S&P) and Moody's
Overview
Encouraging economic and political developments have set the scene for Mongolia to consolidate its robust first quarter performance. According to the National Statistics Office (NSO), the economy grew 4.2% in the first three months of the year, compared with the same period of 2016 (NSOM). Buoyed by strong coal figures and the International Monetary Fund (IMF) bailout, confidence is beginning to return after a prolonged hiatus. This quarter, the IMF package was cemented with the annulment of a key forex regulation, leading to full adoption. Though the recent election of President Battulga, has raised some eyebrows, Mongolia seems poised to continue its economic reinvention. Asian Development Bank (ADB) predictions of 2.5% growth in 2017 underscore a notable reversal of fortunes, with the IMF forecasting 8% growth in 2019 (IMF). In industry as in politics, stakeholders are working hard to realize higher growth figures sooner
Minerals & Extractive Industry
The Mongolian economy is heavily dependent on the performance of certain commodities. Figures for June have yet to be released, however, the value of coal and gold exports continued to grow in April and May. Building on strong momentum at the close of 2016 and in the first quarter of 2017, coal exports in May were up 5.7% month on- month and 264% year-on-year (NSOM). Gold, meanwhile, saw a 107% increase on April, and was up 79% when compared with May 2016 (NSOM). The values were, at least in part, reflective of increased production. The volume of coal exports was 62% greater in May 2017 compared with the previous year, whilst gold saw a 78% expansion (NSOM). Figures 1, 2 and 3 show the performance of both commodities in terms of export value and volumes since the start of 2017.
Mongolian coal has, in part, been the beneficiary of geopolitical movements elsewhere in Asia. Off the back of the Chinese ban on coal imports from North Korea, Mongolian exports to China rose 42 per cent in May 2017 compared with the preceding year (Reuters). Reaching 3.16 million tonnes, this represented a fivefold increase for the first five months of the year. Mongolia, has in turn, become China's second largest provider of non-lignite coal.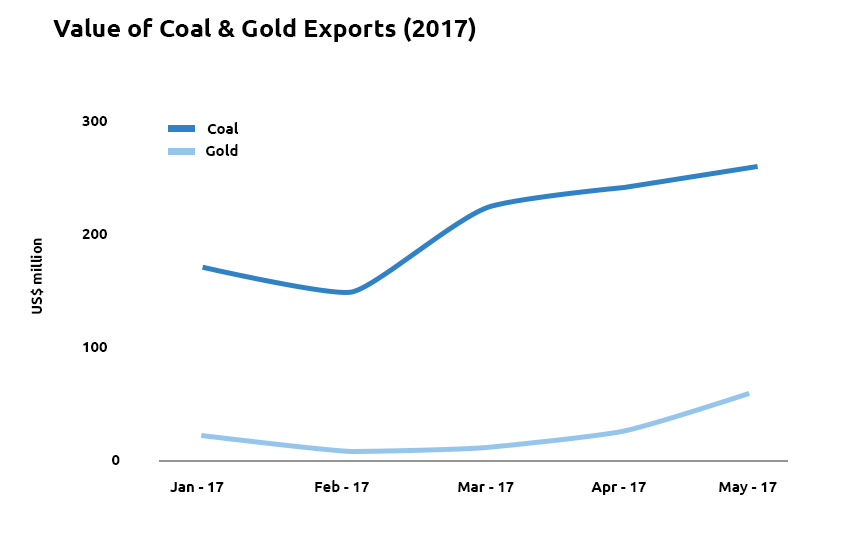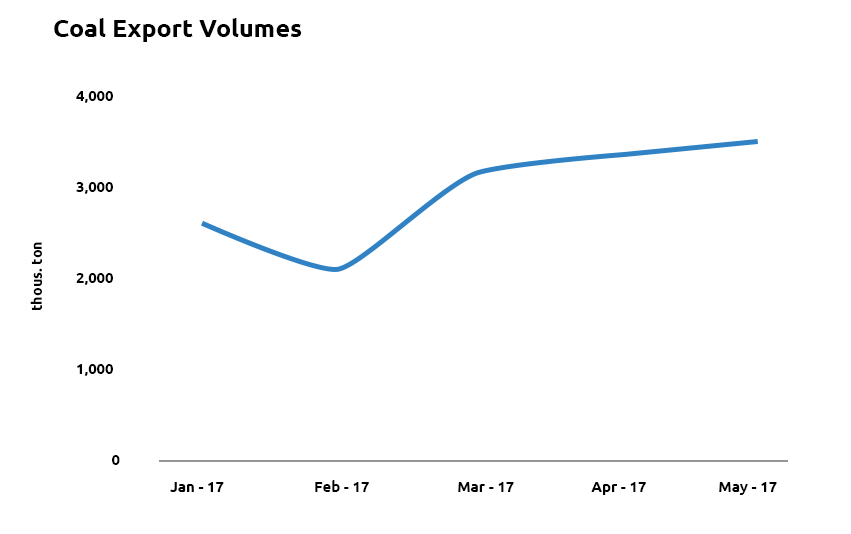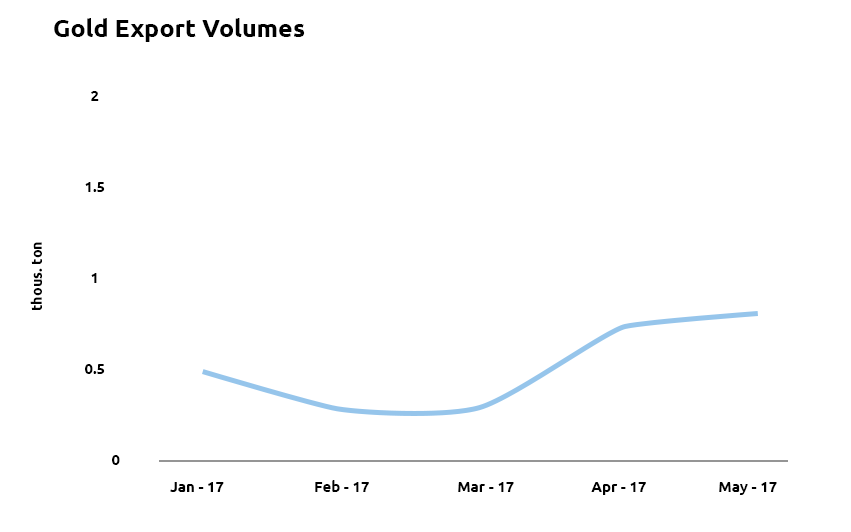 It is also encouraging that although the value of Mongolian coal exports in April were nearly double those of the same month in the preceding year, they were still only US$66 per tonne, compared with US$122 for Australian shipments (Reuters). Mongolia is not only making more from existing minerals exports, however, but opening up more of the country for exploration. With plans to make 21% of its landmass available, organizations like Xanadu Mines are predicting a boom (CNBC).

The question of the role of copper in the body economic has often centered on its medium term role. Indeed, May's performance was down around a third compared with the same month of 2016 (NSOM). Notwithstanding these figures, copper is still a major contributor to the economy of Mongolia. There is a settling consensus of the heightened importance of copper in global production in the coming years. A recent report by the International Copper Association (ICA), forecast demand would increase ninefold by 2027 due to the increased production of electric cars (Reuters). The research, conducted by IDTechEx cited the need for copper in batteries and rotors used in motors (Reuters). As a country with the twelfth largest copper reserves in the world, this bodes well for the future health of the economy. The extraction of higher caliber copper at Oyu Tolgoi will also help.
Since the IMF deal, which built on the 2015 resolution of disputes between Rio Tinto and the Mongolian
government, there has been a flurry of announcements from senior and junior miners. Aspire announced it was to raise a placement of US$4m, in an attempt to further its interest in coking coal projects in Nuurstei (Proactive Investors). Aspire already has a 45% interest in the plant, however, it is expected to use a US$1m option to purchase an additional 45% stake. This development – which will assist in drilling and sampling – is principally of interest since it reinforces Aspire's strategic interests in Mongolia. Industry commentators suggest Nurestei will be the forerunner to its 100% owned Ovoot coking coal project, believed to be the second largest in the country.
Kincora, meanwhile, has announced the acquisition of a new exploration license in Mongolia (Junior Mining Network). The copper and gold permit, located at Shavagtai, was attained through the new direct application system (JMN). Again, this seemingly cohesive process, hints at Mongolian moves to make the country more competitive. Rio – one of Mongolia's most important foreign partners – has also begun new exploration operations in the Gobi Desert. After a nearly five year break, this lends credence to statements as to the strategic importance of Mongolia in its global plans. There have also been positive developments in the oil industry. Petro Matad (PM), announced it had been granted extensions on two exploration contracts until 2019. During the course of this extension, PM has agreed to expend US$7m which will involve the drilling of two new wells and the purchase of three dimension seismic. Oil is an underdeveloped resource in Mongolia, but its role should not be understated. Quite apart from tax receipts its development could one day generate, it will enable Mongolia to be less dependent on its neighbors and become a defter international actor.
Infrastructure
Mongolia's passage to sustainable economic growth requires the improvement of infrastructure across the nation. The announcement of three new roads due to be completed between 2017 and 2020, are therefore, welcome (World Highways). The projects include: a 272km link between Bichigt and Baruun-Urt, the reconstruction of 250km of road between Tavantolgoi and Gashuunsukhait, and the widening of the important 205km road between Darkhan and Ulaanbaatar (World Highways). Such transport links will be instrumental in facilitating economic interaction in Mongolia.
China's ambitious 'One Belt, One Road' program, continues to focus Beijing's attention on Mongolia. In May, President Xi Jingping called for the 'active participation' of Mongolia in the scheme. This was reinforced by a large conference held by the Business Council of Mongolia in June, which drew together many of the relevant parties. Participants were pleased by recent progress, but urged the private sector to step up, sign up, and deliver.
Asides transport, Mongolia needs to modernize its power system to facilitate economic development. The World Bank has approved plans to provide US$54.4m to improve energy provision. The project is focused on the upgrade of existing assets and capacity improvements. Presently, an inadequate system means much energy is lost simply in the process of transmission. Centered on the Baganuur-Southeast and Erdenet-Bulgan distribution networks, the project will also help lay the foundations for the inclusion of renewable energy schemes in Mongolia's grid. Solar power remains underdeveloped, but with 260 days of sunlight per annum, it seems probable it will make a valuable contribution in the mid-term.
Politics
This publication was delayed in order we could detail the outcome of the presidential election. The initial poll was held on 26th June, however, no candidate received a majority and so a subsequent vote was held on 9th July. This situation led to a run-off between the former Prime Minister and current leader of the Mongolian People's Party (MPP), Miyeegombyn Enkhbold, and Battulga Khaltmaa of the Democratic Party (DP). In the election that followed, Battulga won the presidency with 55% of the vote. The new president has an impressive back story, rising from humble beginnings to become a successful
wrestler and later, a businessman and politician.
Some of his political views caused disquiet with the international financial community. Known for believing Mongolian citizens should benefit more from the country's mineral wealth, his rhetoric has on occasion appeared nationalistic. This view, though noted, should be tempered by a realization of his record. As Minister of Roads, Transportation, Construction and Urban Development, he is known to have formed relationships with amongst others, Sembcorp, BNP Paribas, McKinsey and Deutsche Bank. Indeed, while correct to note his suspicion of some of the intentions of Mongolia's neighbors, he has shown less concern in his interaction with multinationals.
Time will tell as to whether Battulga is able to prove the figurehead Mongolia needs, but his pro business views and obvious charisma, seem at first glance, positive. Even if there are bumps along the road, the architecture of both the IMF deal and Rio's agreements, serve to ensure continuity amongst political change. Further, the constitution of Mongolia is strong and has shown itself capable of balancing competing demands and tempering political posturing.
Reform and Consolidation
Moody's has changed its outlook on the Mongolian banking system, in a move indicative of renewed confidence in the resilience of the country (AKI Press). Citing the stability brought by the IMF package and governmental reforms, it changed its outlook from negative to stable (Moody's Investors Services). In common with other international organizations, it anticipates a return to real growth in 2018 (MIS). Moody's rates half of the commercial banks in Mongolia, together with one institution with oversight of government policy (AKI Press). As a combination, these account for over 90% of total deposits in the system (AKIP). Counterpart, Fitch, meanwhile, expressed the view the IMF package staved off financing risks, and Standard and Poor's (S&P), affirmed a stable rating in its April report.
APIP's analysis in the first quarter, alluded to the possibility of tax reform in the future. Such moves are now in train. From August, the Mongolian government will work with the IMF to recalibrate rates of taxation for mining and value-added tax (VAT). The moves are not only focused on tax receipts, but also designed to encourage investment by making mining taxes 'revenue neutral or revenue-enhancing'. Cognizant of the capital intensive character of the sector, it will seek simultaneously to allow re-investment and broader economic gains from Mongolia's resource endowment. Crucially, though a blueprint for the future, it respects existing agreements and does not seek to impose changes retroactively.
As noted elsewhere in APIP reports, although the IMFwas instrumental in suggesting a raft of reforms, it is the government's program to enact – and enact it, it will. At the Conference on the Future of Asia in Tokyo in June, Foreign Minister Tsend Munkh-Orgil told the Asian Nikkei, that with or without international involvement, reforms were inevitable (Asia Nikkei). Stressing Mongolia had expanded fiscally 'a lot' and was supporting 'unsustainable levels of government debt', his comments help to re-affirm recognition of the importance of the changes (AN). With the aim of achieving a budget deficit of around two per cent of GDP by 2022, Munkh-Orgil, stated the immediately obvious: mining is vital, but is a 'capricious animal' and diversification will ultimately provide the remedy for Mongolia's economic cyclicality (AN).
Mongolia has long been recognized for its consistent legal system that re-assures international investors of the rule of law. Further measures to harmonize international legislation with that of Mongolia is likely to encourage investors. In April, the Ikh Khural, adopted the Amendment Law to the Law of Mongolia on Labor (JD Supra). In a simplistic sense, guarantees of workers' rights pertaining to probationary and apprenticeship periods and parttime employment, may seem at best, secondary, and at worst, anti-commerce. In practice, however, it amounts to a statement of intent by the Mongolian parliament as to the significance of internationalizing the economy. It also may make Mongolian companies more easily investable by reducing potential reputational damage and widening the pool of exit purchasers.
A last positive development in the area of reform and consolidation is the Asian Development Bank (ADB), lending some color to its plans for supporting Mongolia over the coming years. Its Board of Directors envisages support of US$1.7bn over the 2017-2020 period. Not only will this money be used to maintain social programs for the poor and vulnerable, but help restructure the banking system during the implementation of the IMF package. The ADB's aim – namely sustainable growth – is a sentiment central to Mongolia's ability to create more balanced growth in the future. Again, it would be easy to disparage social programs, but by averting the movement of 35% of the country's near poor into poverty, it is likely to avoid expansive social policies linked only to elections, and gain buy-in from the country's citizens.
Market Confidence
Business confidence in Mongolia has reached a four-year high according to the World Economics' Sales Managers Index. In its analysis, it found a growth in the market and business confidence indices and low price inflation. Indeed, in the case of the market growth index, it is now at the highest level in three years, according to World Economics (World Economics). Figures 4, 5 and 6 provide an indication of the improving shape of the Mongolian economy, and the potential for increased consumer spending in the coming years.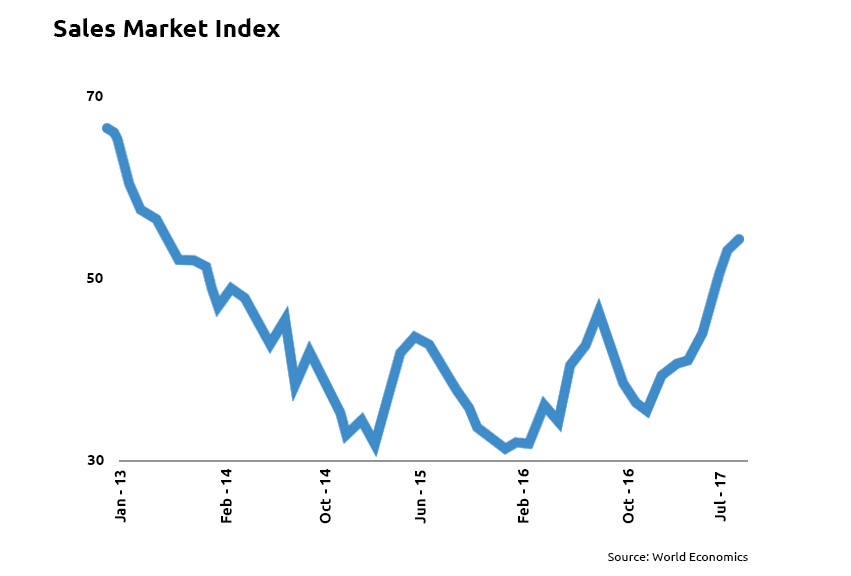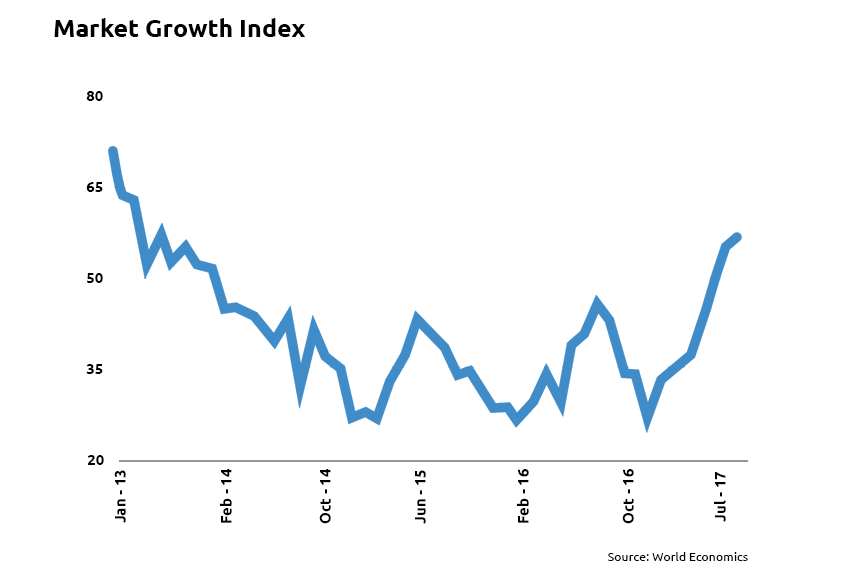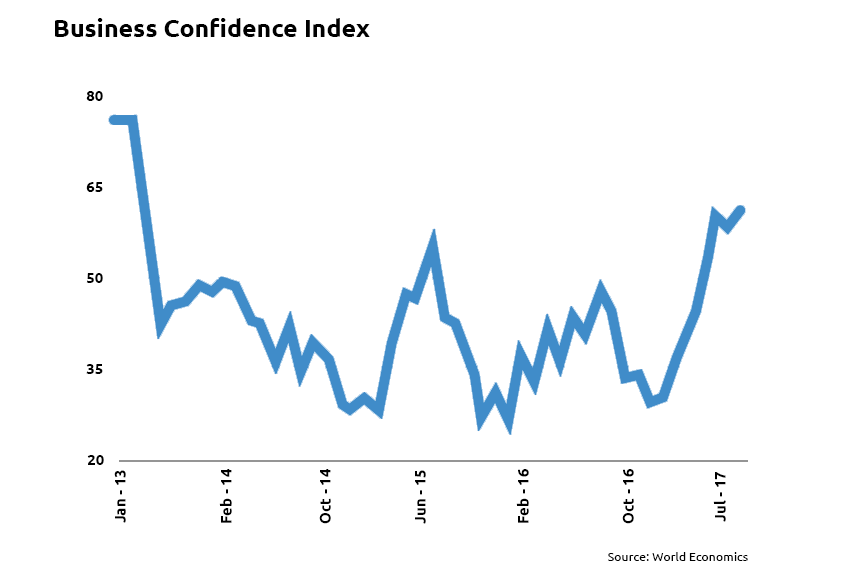 After a positive start to the year, concerns have been raised as to the rising number of non-performing loans (NPLs) in the Mongolian banking sector. In a move likely to be well received by the market, government announced plans to establish an asset management company to help offload onerous loans from the balance sheets of domestic banks (Financial Times). The issue arises from the fact Mongolia's sixteen banks have accumulated bad debt during the mining boom (and subsequent bust) and institutions have tended to restructure rather than acknowledge delinquency and default (FT). Such a situation means it is difficult to quantify the extent of the challenge. Official figures from the Bank of Mongolia suggest a NPL ratio of 8.6 per cent, however, reports in the Financial Times, suggest some in the industry believe it could be as high as twenty percent (FT). In recognizing the problem, it may be possible to restore integrity to the entire system.
Whatever the true level of bad debt, assistance in making the banking sector more transparent and reflective of underlying value will be beneficial. According to the ADB, plans have already been drawn up and could be discussed by policy makers as soon as Autumn. At present, structural issues prevent new lending – a situation insidious to the broader economy. It is thought, for instance, mining licenses are in some cases still valued for collateral purposes at boom-level valuations (Ibid). If it is possible to make banks' books more transparent, it may be possible to rationalize bad debt and sell NPLs to international funds.
Real Estate Market
The performance of the housing price index in Ulaanbaatar was muted in May. There was a decline in the general index of 2.65% compared with the previous month, and 4.72% versus the preceding year (Bank of Mongolia). New and old properties fell 2.09% and 2.61% respectively compared to the same month in the previous year (BoM). Superficially, these indices do not present a positive image of the real estate sector in Ulaanbaatar. On a micro-level, however, the story is altogether more encouraging.
From a residential perspective, the supply of land in Sukhbaatar is still constrained, leading to price appreciation in well located properties. The Olympic Residence, an APIP project due to complete in Autumn 2017, is nearly 100% sold, with strong price growth when compared with 2016. Smaller buildings such as the Embassy Residence, are oversubscribed and in some cases, there are waiting lists for the best properties. Meanwhile, the lack of new residential development in Chingeltei is leading to some of the highest rental yields in the city, providing opportunities for well-advised investors. Khan-Uul, boasts the second highest rental returns in Ulaanbaatar, however, concerns as to land rights and overdevelopment, mean the best prospects are well-priced, limiting the supply of appropriate investments.
APIP remain of the view retail will be one of the most important sectors in the coming years. As a company, we have benefitted from considerable interest in space in our buildings – both those under construction and those due for completion in the next few years. To date, developers have focused on the luxury segment and attracting and retaining major international retailers. The consequence has been to neglect a growing consumer class with more modest salaries, creating properties of a specification and price-point beyond the middle and upper middle class. This quarter, our retail survey expressed positive sentiment amongst managers, and optimism as to the prospect of future demand. APIP will continue to monitor this sector closely as confidence and growth returns to Mongolia.
Toward a More Balanced Economy
The move toward a more balanced – and diversified economy – in Mongolia is much discussed, but challenging to deliver. In the first half of 2017, however, there have been a series of announcements which will help contribute to this future. The European Bank for Reconstruction and Development (EBRD) is often at the forefront when supporting local businesses. It recently announced a US$7.6m financing package to support local logistics firm, Terra Express (EBRD). The loan package marks the first time the EBRD has become involved in the transport sector in Mongolia and is designed to assist the company to grow by reforming its balance sheet and restructuring its debt.
The EBRD was earlier active in providing US$16m to Gobi Cashmere, believed to be the largest producer in the country. The money is to be used for the improvement of substandard equipment and the opening of a flagship store in Ulaanbaatar (Just Style). Cashmere is already established as the second most important export after minerals, and so the support this industry has received over the last quarter is valuable.
Agriculture is another area much mooted by observers as a potential growth area for the Mongolian economy. The dairy producer, Suu, issued the stock exchange's largest corporate bond, valued at a reported 6 billion tugrik (US$2.55m). The purpose of the issuance is understood to be to refinance dollar denominated debt accumulated in previous years. With an interest rate of 17.5 per cent, it was oversubscribed and hints once more at a sense confidence in Mongolia is growing.
There have been agreements reached in the energy sector also. Singapore-based resource company, Tian Poh Resources, has signed a memorandum of understanding with the Ministry of Energy to develop coal and gas power plants near Ulaanbaatar. The two parties will also work on the distribution of electricity and gas as well as the construction of the Ulaanbaatar City Gas Pipeline Network. Under the terms of the MOU, the company will share its feasibility research on the construction of 1,000 MW of coal fired generation facilities as well as a coal to natural gas plant with an annual capacity of up to 8bn cubic meters (Asia Miner).
As the world moves toward a greener future in the hope of offsetting climate change, Mongolia is uniquely placed to be at the forefront of provision. The Tsetseii windfarm is moving apace, with Wood Group of Scotland instructed as engineer on the project (Herald). Tsetsii is an internationally supported – and pioneering – project in Mongolia which will generate fifty megawatts of power (Herald). Currently, Mongolia has little renewable power but significant potential. It is beginning to move decisively to develop wind and solar power, in a hope to increase generation from renewable sources to 30% by 2030, compared with the figure of 7.62% recorded in 2014 (Clean Technica).
International Relations
In the last quarter, an increasingly internationalist Mongolia is asserting itself on the world stage. At the
St Petersburg International Economic Forum, a series of agreements were reached between Ulaanbaatar and Moscow. Cooperation on existing shared energy facilities is to be increased, while the energy sector has been further opened up to Russian participation. At the same forum, Mongolia mooted the idea of a free trade agreement with the Eurasian Economic Union (EAEU) (Belarus News). Prime Minister Erdenebat stressed the possibility of developing a China-Mongolia – EAEU, which would open another frontier of economic expansion for both sides. Additionally, a 2017-18 plan will cover areas of trade policy, customs administration, and agricultural development (BN).
In a more unusual twist, President Rodrigo Duterte of the Philippines used his presidency of the Association of Southeast Asian Nations (ASEAN) to call for the inclusion of Mongolia, alongside Turkey (Global Nation). Reportedly prompted by dialogue between Mongolian and Philippine government officials, the unlikely proposal nonetheless underscores the increasingly global approach taken by the MPP government. Bilateral relations also continue to be discussed. The two countries have long enjoyed a strong working relationship, and plans have now been announced for the establishment of a double taxation treaty, the construction of a coal-chemistry complex and a third quarter consultative meeting between both private and public sectors (GN).

Conclusions
Mongolia had a measured second quarter, successfully building on the successes of the early part of the
year. Coal and gold continue to outperform, the latter especially pleasing given the growing role it can play in the Mongolian economy. Though copper continues to lag behind, industrialists caution much of this is a function of current reserves under extraction, and will recover in the coming years. Though there may be a softening of global copper prices, its medium term prospects are exciting, given global consumer demand trends.
The mining field in Mongolia seems to be becoming more plural not only in terms of participants, but in the number of possible deposits being developed. Answering the government's clarion call to expand and deepen exploration, miners, large and small, are refocusing efforts on Mongolia. Rio continues its existing investments, but has also rolled decisively back into the country, looking for new deposits and underwriting aspirations with capital. As infrastructure is developed – through collective efforts of private and public sectors – the ability to monetize deposits will excite further interest.
These changes are symptomatic of broader confidence born of reform, returning to the economy. International credit ratings agencies are united in improving their overall outlook, which will be crucial for both sovereign and corporate debt issuances. The influential sales manager indices, further lend hard fact to talk of a Mongolian renaissance. APIP's analysis of the retail sector, in particular, affirm our view consumer provision will be an important strategic real estate sector in the coming years. With a new, ambitious president, increased international interaction and supportive non-governmental organizations trying to facilitate diversification, the second quarter, supports a cautiously optimistic assessment.
For help navigating opportunities in Mongolia, please contact us info@apipcorp.com