Key updates
Strong growth of 6.3% for the first half of 2018

Joint declaration between the Government of Mongolia and the Millennium Challenge Corporation (MCC) of the US on 350 million USD Second Compact to address Ulaanbaatar's water supply

Official visit of the Prime Minister of Mongolia to the United States, developing Mongolia-US relations and cooperation
Credit rating agencies' optimistic upgrades on Mongolia's outlook
Export and import reaches a positive trade balance in 3rd quarter of 2018 (NSO)

Copper production and exports increased significantly

As of August, BoM officials highlighted amount of purchased gold
OVERVIEW
Things are clearly starting to look up for the Mongolian economy. After a steady recovery in 2017 all economic data thus far in the year 2018 are pointing in the right direction. With surging production and exports of copper and an ever increasing gold production the future looks fairly certain to be economically interesting, even enticing. There is an increasing probability that Mongolia will experience the perfect storm of coal exports to China, increasing copper production with the Oyu Tolgoi project and the seemingly never ending discovery of new gold fields. Adding to this favorable trend is the steadily increasing price of copper as the main metal benefitting from a global growth spurt being led by a vigorous US economy. The demand for products containing large amounts of copper continues to be robust and the implications for Mongolian economic growth should not be underestimated.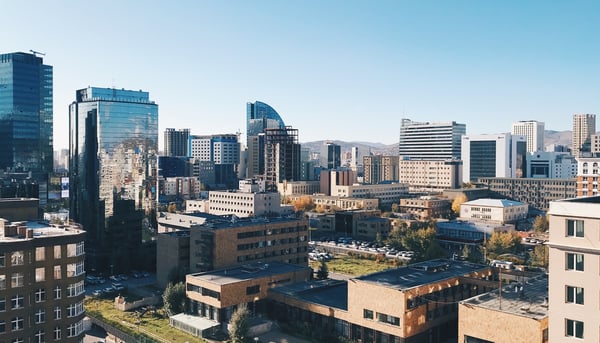 Due to this better economic performance than expected, ADB has revised its growth outlook for Mongolia to reach 6.4% in 2018 and 6.1% in 2019, exceeding its last estimates of 3.8% growth this year and 4.3% next year. The evidence is starting to pile up, literally, in the banking system as Mongolian Tugrik time deposits have jumped a staggering 34% from 2016 to 2017 and another 26% from 2017 to 2018 according to the NSO, sending a strong signal that the economic recovery is real and is clearly benefiting the population.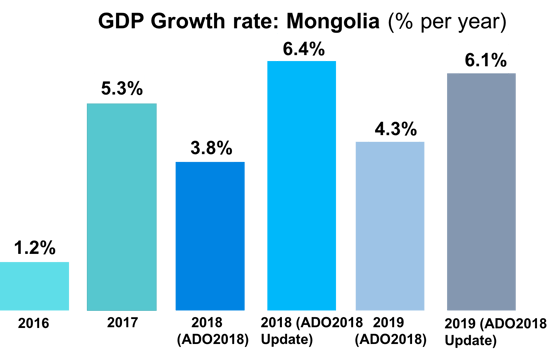 Source: Asian Development Outlook 2018 Update
Improved political stability affects the investment climate positively
Adding to Mongolia's changing fortunes is the fact that on the back of durable political stability, foreign direct investment has started coming back into the country driven largely by large infrastructure projects as well as mining investments. Helping this effort are the diplomatic initiatives of the President, the Prime Minister and the Ministry of Foreign Affairs, acting for the first time in more than a decade as a coherent, coordinated triumvirate forwarding the interests of Mongolia the country, rather than their respective parties' narrow needs and desires. Engagement with Mongolia's most important trade and investment partners has recently accelerated with countries including the US, China, Japan, Korea, Russia, UK and the European Union, all of which are in discussions regarding economic cooperation and investment.
Remarks at official visit of Prime Minister of Mongolia to the United States
Mongolian Prime Minister Khurelsukh's first visit to the US took place in October 2018. His official visit reaffirmed 31 years of Mongolia-US diplomatic relations and declared the bilateral relationship. One of the important agreements he signed during the visit was the joint declaration between the Government of Mongolia and the Millennium Challenge Corporation (MCC) of the US for the 350 million USD Second Compact to address Ulaanbaatar's water supply. Officials emphasized that the Second Compact Agreement will help the Mongolian Government to increase bulk water supply in Ulaanbaatar. As a result, this Compact Agreement will benefit livelihood of the Mongolian people, providing sustainable economic growth.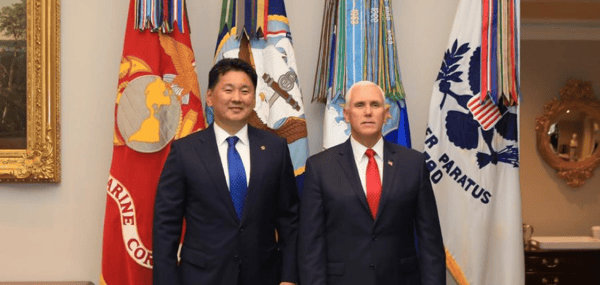 Impact of economic growth on society
The benefits are starting to flow through to employment. According to World economics Mongolia's employment rate stands at 61%, the highest for more than five years and indications from the executive recruitment industry suggest that employers are currently in recruitment mode making the employment market tighten and wages rise. Much of this economic growth is starting to filter into the property market which has seen increases in the volume and the value of transactions providing much needed relief to the banking system that has been sitting on illiquid and undervalued assets as collateral. To be sure, this economic resurgence has more room to go and the banking system is still sitting on a large number of non-performing loans, saddling the banks with unwanted real estate collateral but also providing savvy investors with potentially lucrative investment opportunities.
Amazingly, the primary fiscal deficit, which had reached 12.5% of GDP in 2016, turned into a surplus of 2.1% of GDP in 2017. It is difficult to remember the last year that the Mongolian government actually ran a surplus but these improvements in the fiscal performance were due to a dramatic increase in government revenue and effective control of public spending. To those who have been watching Mongolia for the last decade or two this might seem like a miracle but one that seems to be going unnoticed by most.
This strong focus on revenue growth and curbed government spending is helping Mongolia reduce it debt to GDP ratio which peaked at 87.2% in 2016 and is projected by the World Bank to fall to as low as 72.4% by 2020. Indeed, the outlook for an increased credit rating looks in the offing, making Mongolia one of the few frontier markets whose economic indicators are moving in the right direction. This is no doubtedly helping the Mongolian Tugrik remain relatively strong vis-a-vis the other frontier and emerging market currencies which have been falling precipitously, with Turkey and Argentina leading the charge.
Credit rating agencies' optimistic upgrades on Mongolia's outlook
International credit rating agencies have updated their current ratings on Mongolia's outlook because of the increased GDP growth in the first half of the year. Standard and Poor's (S&P) has upgraded the Mongolian sovereign credit rating to "B" from "B-" with a stable outlook. Fitch and Moody's have upgraded the country's credit rating to "stable" as well. These positive updates clearly indicate the government's strong fiscal performance in the first half.
Minerals & extractive industry
Investment into the mining sector has supported continuously the economic activity in the third quarter, after investment inflow related to the expansion of the Oyu Tolgoi mine.
Mongolia exported a total of 27 million tonnes of coal worth $2.1 billion in the first three quarters of this year. Minister of Mining and Heavy Industry of Mongolia, D. Sumiyabazar underlined the opportunities by using advanced technologies to increase annual coal exports from 20 million tons up to 30 million during the "Coal Mongolia-2018" conference on September 4.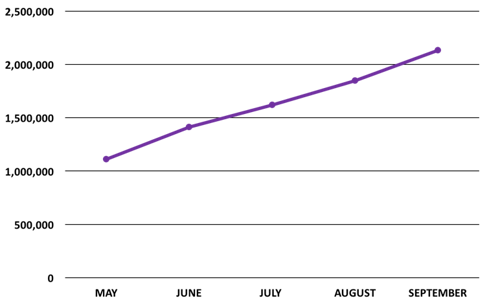 Figure 1. Value of coal exports from May to September of 2018 (USD thousands)
As Figure 1 shows, the value of coal exports has grown considerably from May to September in 2018, according to the NSO.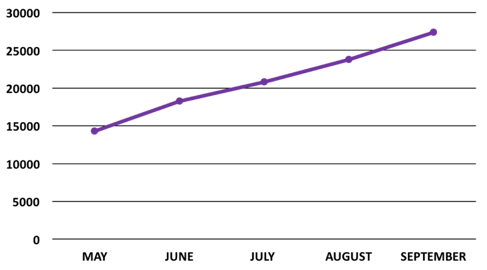 Figure 2. Volume of coal exports from May to September of 2018 (thousand tons)
Volume of coal exports has increased as well in past months of 2018. Figure 2 represents extensive growth in the volume of coal exports in the third quarter of 2018, relative to the same period last year.
Copper production and exports increased significantly as well
In recent months, the increase in the price of copper strongly affected its production. Specifically, Mongolian copper production and exports had increased considerably in comparison with the previous years.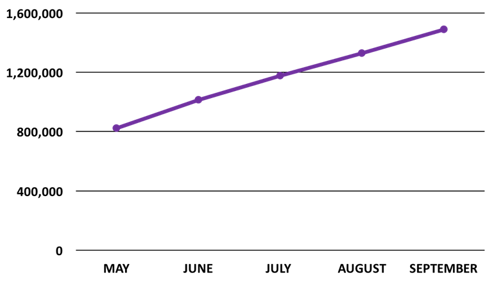 Figure 3. Value of copper exports from May to September of 2018 (USD thousands)
Figure 3 shows 22% growth in the value of copper exports from May to September of 2018, relative to the same months last year.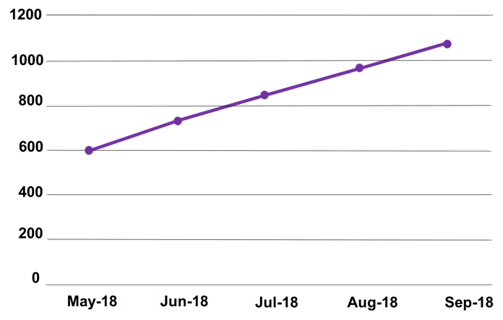 Figure 4. Volume of copper export from May to September of 2018 (thousand tons)
Volume of copper exports went up to 1,072.96 thousand tons in the first nine months of this year, according to the NSO data shown in Figure 4.
According to the first nine months of 2018, gross production of the industrial sector reached MNT 11.2 trillion, with an increase of MNT1.7 billion (18.8%) as compared with the same period of the previous year (statistical review of the Mining and Heavy Industry). As of the first nine months, the total foreign trade turnover reached USD 9,633.8 million, with an increase of 24.9% as compared with the same period of previous year. 99.2% of the total exported copper concentrate, 99.1% of coal and 58.6% of spar and all exported crude oil, iron ore and zinc concentrate went to China. (Montsame)
Increased exports in copper, combined with proactivity from public and private sectors, has placed Mongolia in a confident position as it embarks a strong end of this year.
Turning lastly to gold, BoM officials highlighted a 3.4 ton purchase of gold in October, a growth of 34% year-on-year. They launched one metal assay laboratory in Darkhan-Uul aimag on October 15 and one stop shop in Bayankhongor aimag on October 18 to purchase the gold in rural areas. Moreover, the BoM reported that they are planning to set up two more laboratories and one stop shop in two more aimags in 2019.
According to the BoM, gold purchases reached 17.7 tons as of the first ten months of this year, an increase of 3% year-on-year.
Looking forward to 2019