Executive Summary

Mongolia is holding steady with another quarter of powerful growth and a strong future outlook. We watch in anticipation for developments to come.
Q2 GDP growth numbers show strength with year-on-year growth of 6.8%. Year-end growth is expected to be even stronger at 7.3%
GDP growth is driven by an increase in coal exports, which reached 18 million tonnes in June and are expected to hit a yearly total of 40 million tonnes relative to 36.5 million tonnes last year; FDI has also seen significant growth
Sustainable growth initiatives are increasingly in the spotlight. The government projects an increase in FDI of roughly USD 16 billion from 113 public-private partnerships focused on sustainable development. The World Bank has agreed to finance USD 100 million for sustainability initiatives
Cerberus Capital Management has shown interest in buying 25% of MCS Group's food and communication business for USD 110 million
OVERVIEW
Mongolia's economy is strong and its growth continues to break conventions with 6.9% growth in 2018 and an anticipated 7.3% growth for 2019. Foreign direct investment into mining, oil, and construction have surged, and exports have grown by 10% in the first half of 2019 to a total of USD 3.9 billion.

Source: Mongol Bank
Meanwhile, Fitch has issued a statement keeping Mongolia's long-term credit rating at "B" while citing steady improvements in economic growth and across fiscal and governance indicators. In late June the IMF commended Mongolia for its improving economic resilience, as seen by its strengthening foreign reserves, and for its improving fiscal balance through the reduction of public debt. Mongolian reserves have hit a record high of over USD 4 billion in Q2 of 2019.
Mongolia has also seen promising developments across sustainability initiatives, international affairs and infrastructure and real estate. These include a blossoming solar power industry, promising agreements with the U.S., and initiation of the New International Airport. Overall, Mongolia's economic momentum has been tremendous and this has been reflected well in Q2 19.
MINERALS, EXTRACTIVE INDUSTRY AND EXPORTS
Rising commodity prices across Mongolian export goods have been a major boon to the economy. Additionally, the USD 7.2 billion investment into the expansion of the Oyu Tolgoi mine, which is expected to output 560,000 tonnes annually from June 2023, is only helping to heat things up. Coal exports, in particular, have shown strong growth with Mongolian coal exports reaching 18 million tonnes in June 2019, leading to projected 2019 export levels of 40 million tonnes or a 10% increase from last year. Bituminous coal exports increased by 12% with bituminous sales revenue coming in at USD 1.5 billion.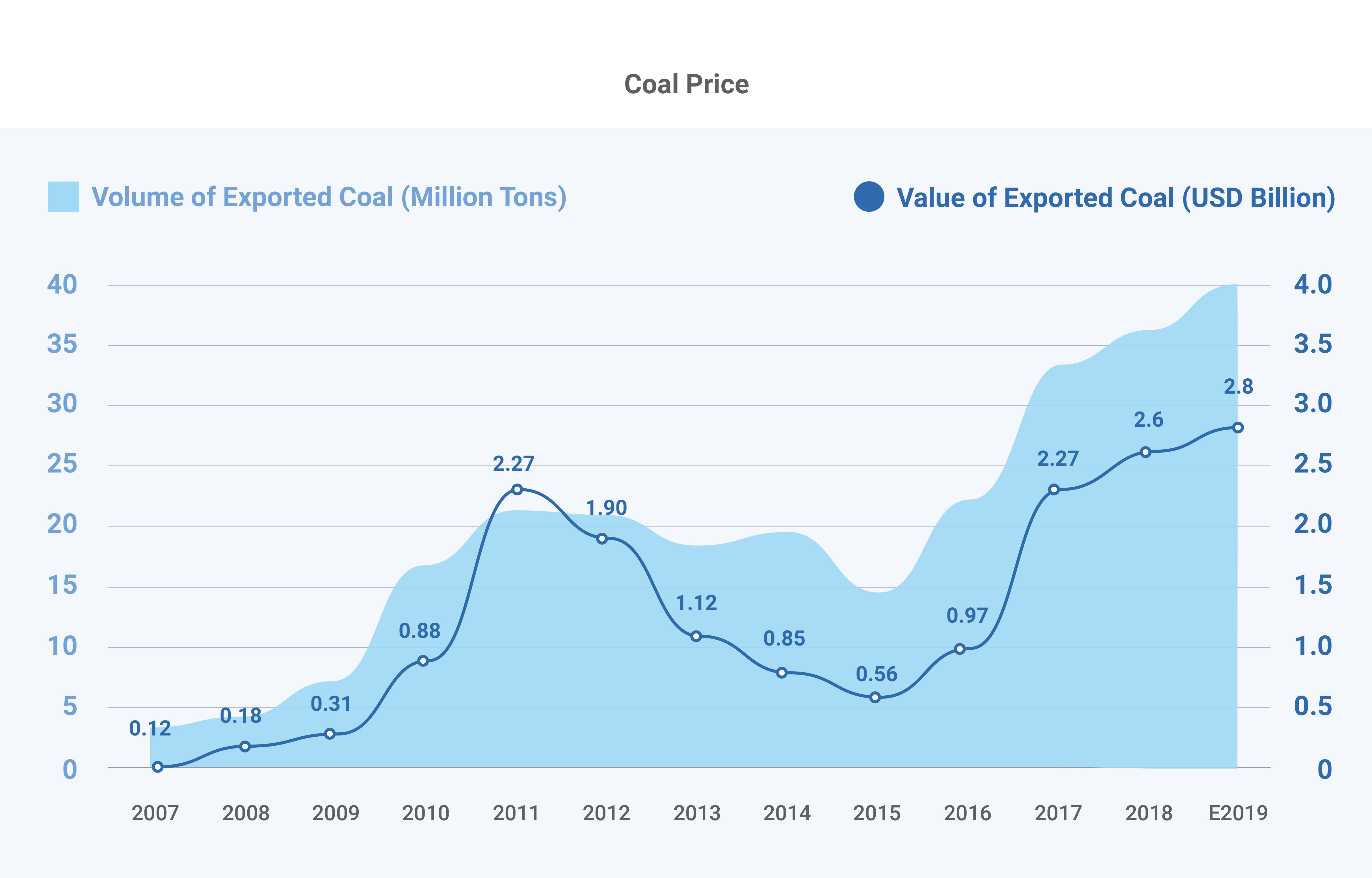 From a trade perspective, Mongolia's H1 19 trade turnover increased by USD 492 million relative to the same period last year, reaching a total of 6.8 billion. This growth was driven by an increase in exports of USD 357 million in H1 19 that reached a total of USD 3.9 billion. Coal and gold were major players in this export growth.
SUSTAINABLE DEVELOPMENTS
Mongolia is pursuing renewable energy sources to reduce its reliance on old coal-fired power stations. Its emerging solar initiatives will play an important role in sustainable development by reducing electricity imports and lowering Mongolia's carbon emissions by thousands of tonnes per year. These projects are in addition to the 103 other projects the EBRD has already funded in Mongolia, totaling over €1.4 billion to date. In particular, a solar project, financed by the EBRD, Triodos and the FMO Dutch Development Bank, is slated to add 30 MW to the Mongolian grid. Overall, the EBRD has invested more than USD 114 million in renewable energy, supporting four projects and funding more than 180 MW of capacity. Already-committed EBRD financing will help Mongolia source 16% of its installed electricity generation capacity and 6% of its domestic electricity consumption from renewable sources.
Additionally, the Asian Development Bank and Mongolia have signed a USD 40 million loan to develop a 41-megawatt renewable energy system using solar and wind power that utilizes advanced battery storage technology and energy management systems. The solar power plant, which is located in the Khushig Valley, will supply clean and reliable electricity to about 260,000 people in remote towns in the west of the country. The project will be built and operated by the Sermsang Power Corporation and Tenuun Gerel Construction LLC.
INTERNATIONAL RELATIONS
Mongolia and the U.S. announced a strategic partnership following President Kh. Battulga's official visit to the United States in July 2019. This partnership is designed to intensify cooperation by promoting democratic values and human rights as well as by expanding trade, investment, and general economic relations. President Trump has also expressed his support to pass the Mongolia Third Neighbor Trade Act.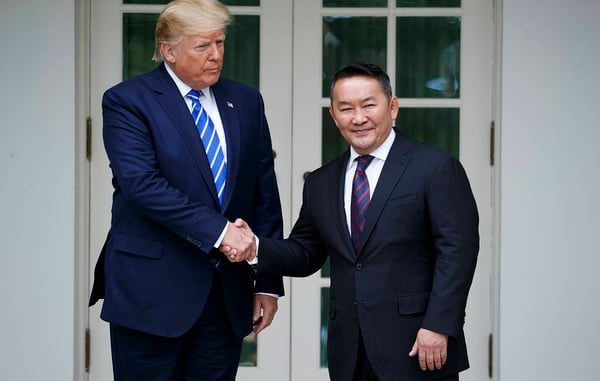 INFRASTRUCTURE AND REAL ESTATE MARKET
The construction of the very first highway connecting Ulaanbaatar to the New International Airport in Khushig Valley has been completed following the official opening of the New International Airport. The highway, which has six lanes, will play an important role in the development of tourism, the linking of provinces to Ulaanbaatar, and the development of bilateral cooperation between Mongolia and China.
A 15-year cooperation agreement has been signed under the "invest-operate-transfer" scheme for the management of the New Ulaanbaatar International Airport by a Mongolian-Japanese Joint Venture, The New International Airport LLC. As stated by Prime Minister U.Khurelsukh, "The New Airport will link land-locked Mongolia, where demand for new flight routes is rising and passengers travelling to the country are growing, to the other countries in addition to developing tourism."'
Part of Ulaanbaatar's development plans for 2040 include developing a city, "Aerocity", adjacent to the New International Airport in Khushig Valley. The new city is expected to have seven schools, twelve preschools, one hospital and some family clinics. Between 2022 and 2023 it is expected that, as a result of the new city project, 39,000 jobs will be created and 1,400 new household apartments will be built.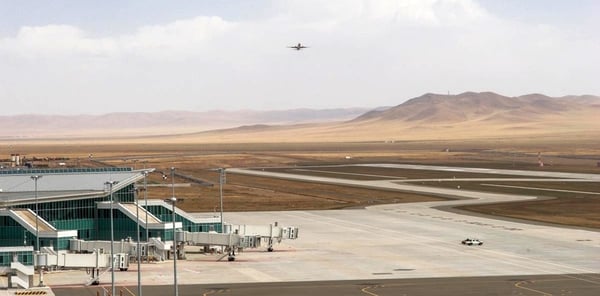 From a real estate perspective, prime residential prices in the Central Business District (Sukhbaatar district) average USD 3,158 per square meter according to Mongolian Properties. There are only a handful of exclusive prime properties available in Ulaanbaatar for the growing ultra-wealthy class and competition for these rare properties has driven prices up. Unlike peer cities in Asia, real estate prices are competitive and rental yields are high in Ulaanbaatar, This is partially driven by a growing number of expatriates in the city who have created additional upward pressure on the leasing market for high-end units. In aggregate, Mongolian housing prices have increased by 2.6% year-over-year in Q2 19.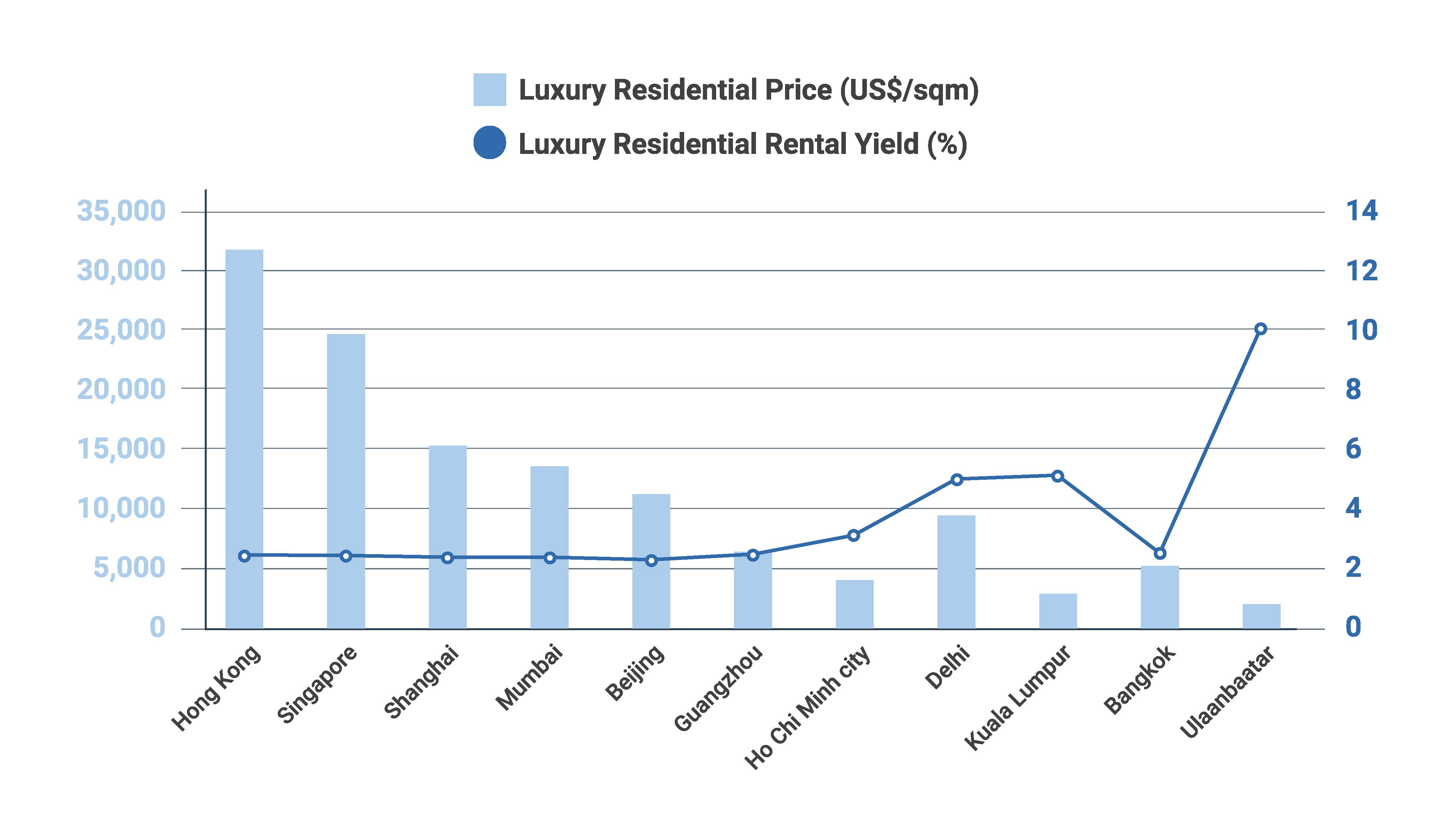 CONCLUSION
Mongolia's economic outlook continues to be favorable and the World Bank has predicted that the country's GDP growth in 2019 will be at 7.3%, up from growth levels of 6.9% in 2018. Annualized GDP growth in Q1 of 2019 rested at 8.6%. Implementation of large infrastructure and sustainability projects, stable inflows of foreign direct investment into the country and textile and mineral exports will be major factors for the untapped country's economic growth.
Upcoming challenges for Mongolia include growing inequality between the nouveau riche and middle-income households as well as a need for Mongolia to continue to strengthen its sovereign balance sheet in preparation for future growth in light of its historically high capital expenditure levels. Vulnerabilities of the Mongolian economy include an exposure to global commodity prices and exchange rate movements. These are important considerations for any investor who is considering Mongolia. In aggregate, however, we believe the Mongolian economy is doing an outstanding job and has crashed through Q2 with impressive strength.