Executive Summary
The economy grew by 5.1 percent in 2019, which is 2.1 percent lower and USD 336 million higher relative to 2018, driven by increases in added value of the service sector and the agriculture sector in accordance with the National Statistics Office (NSO)
GDP grew by 8.6% in the first quarter, 6.8% in the second quarter and 6.3% in the third quarter of 2019, respectively (NSO)
Mongolia's exports hit over USD 7 billion in 2019 (Mongol Bank)
Mongolia exported 36.4 million tons of coal worth over USD 3 billion which is USD 327 million or 1.4 million tons higher, relative to the same period last year. The commodity price increased to USD 85 per ton. Mongolia had planned to reach its coal exports to 42 million tons in 2019 (Xinhua)
The USD exchange rate was 2,734 and MNT exchange rate depreciated by 3.4 percent at the end of 2019 (Mongol Bank)
The country's currency reserves reached 4.2 billion USD and the inflation rate hit 5.6 percent in 2019 (Mongol Bank)
Mongolia has been added to the Grey List by FATF on Money Laundering in respect of inadequate supervision in real estate brokerage, precious metals exchange and others (Reuters)
Overview
After a rocky start to 2019, Mongolia's economy moderated by the end of the year. Mongolia has solidly recovered from the macroeconomic slump in 2016 driven by hefty private consumption, steady foreign direct investment inflows and a resurgence in mineral exports and stronger commodity prices. Mongolia's medium-to-long term growth prospects remain progressive in accordance with the World Bank's Mongolia Economic Update.

Source: Mongol Bank
Trade with China boomed, Mongolia's exports increased by 9% and the price of key commodities ramped up. Fenwei Energy analysts foresee Mongolia will be the leading coking coal supplier to China in the mid to long term in regard to the recently constructed 1,814 km railway, Xiaoji which passes through seven provinces of China. The mining sector comprised over 20 percent of economic growth, the construction sector and services sector accounted for circa 10 percent and 40 percent, respectively.
Moody's has issued a statement keeping Mongolia's long-term credit rating at "B3 (stable)" while citing the current account deficit narrowing to 12.6% of GDP in 2019 from over 40% of GDP in 2011-2013. The coronavirus outbreak and fluctuating commodity prices restrain growth; however, it expects activity to recover in the second quarter of 2020.
COMMODITIES, INDUSTRY AND EXPORTS
Considering exports generally, figures from January to December 2019, show continued progress with exports hitting over USD 7 billion which is a 9% increase relative to the preceding year. Rising commodity prices across Mongolian export goods have played a major role in the growth. Coal exports, in particular, have not met the expectation to reach 42 million tons. However, the country exported 36.4 million tons of coal with sales revenue coming in at USD 3 billion, which is USD 327 million higher relative to 2018.
Mongolia 2019 Q4 Coal Export Update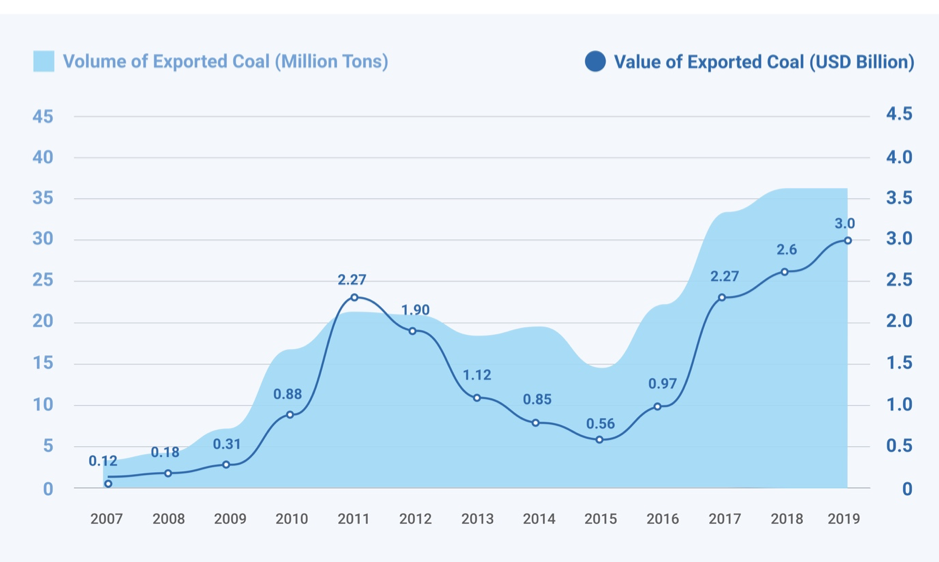 Source: Mongolian Properties
Mongolia exported circa 5 million barrels of oil for USD 272 million in 2019. The government of Mongolia, with funds from the Indian government, is building an oil refinery which is expected to operate in DornoGobi province in 2023.
Erdenes Tavan Tolgoi Mining, a subsidiary of Erdenes Tavan Tolgoi plans an IPO and to sell 30 percent of its stock on the Hong Kong and London Stock Exchanges in May 2020. Erdenes Tavan Tolgoi's sales revenue hit over USD 1 billion by exporting circa 14 million tons of coal in 2019.
SouthGobi Resources exported 800,000 tons of coal and generated revenue of circa USD 13 million.
Rio Tinto's shares rose by 2 percent after Turquoise Hill Resources and Rio Tinto announced that they are willing to negotiate with the Government of Mongolia to deliver more value to stakeholders by improving the Oyu Tolgoi investment agreement and transferring Mongolia's 34 percent stake in the project to a production sharing agreement.
Mongolia exported over 1 million tons of copper worth USD 1.5 billion and 560,000 tons of fluorspar ore worth USD 170 million in 2019. In terms of fluorspar exports, Mongolia ranks 3rd in the world.
Mongolia exported circa 6,000 tons of cashmere worth USD 284 million, which is a USD 35 million increase relative to 2018, reported by the General Customs Administration.
In accordance with the Mongolian Customs General Administration, Mongolia traded with 152 countries with imports growing by four percent reaching over USD 5.6 billion and exports hitting over USD 7 billion which is a 9% increase relative to the preceding year.
According to the National Statistical Office, the gross domestic product of the industrial sector reached MNT 17.4 trillion last year, which is a 11.2 percent higher relative to 2018. Mining industry production accounted for 71.8 percent.
INFRASTRUCTURE AND REAL ESTATE MARKET
House prices in six districts of Ulaanbaatar are up by 81.7% compared to 2010.
The Ulaanbaatar housing price index shows an increase of 3% in December 2019 compared with the same month in the preceding year (Mongol Bank). Average price per square meter for new apartments stood at MNT 2,4 million, which is 7% increase, relative to last year. Since 2000, Sukhbaatar district has shown the highest residential prices. Prices of older buildings continued to increase by 4.5% over twelve months. In 2019, the construction sector's production grew by 5%.

Source: Mongol Bank
As of year-end 2019, the number of mortgage borrowers stood at 95,490. With a population of 1.3 million in Ulaanbaatar city, but with 56% percent of the city's residents living in ger accommodation, there is strong demand for conventional housing for 217,000 households. In 2019, more than 441 residential projects for 61,639 urban households were underway and circa 10,000 residential units were commissioned. Even though more residential units are being commissioned every year, for many, this need comes down to affordability. About 16.3% or 35,497 urban households and 12.2% or 14,905 rural households are able to afford apartments. The government has initiated 150,000 affordable housing projects for 2019-2023 with MNT 60 billion allocated for the nationwide subsidized mortgage financing for 2020. A ger district development program in Ulaanbaatar will be implemented in three stages over nine years. The cost of the project will be an estimated 320 million USD, with 163.7 million USD being financed by a soft loan from the Asian Development Bank.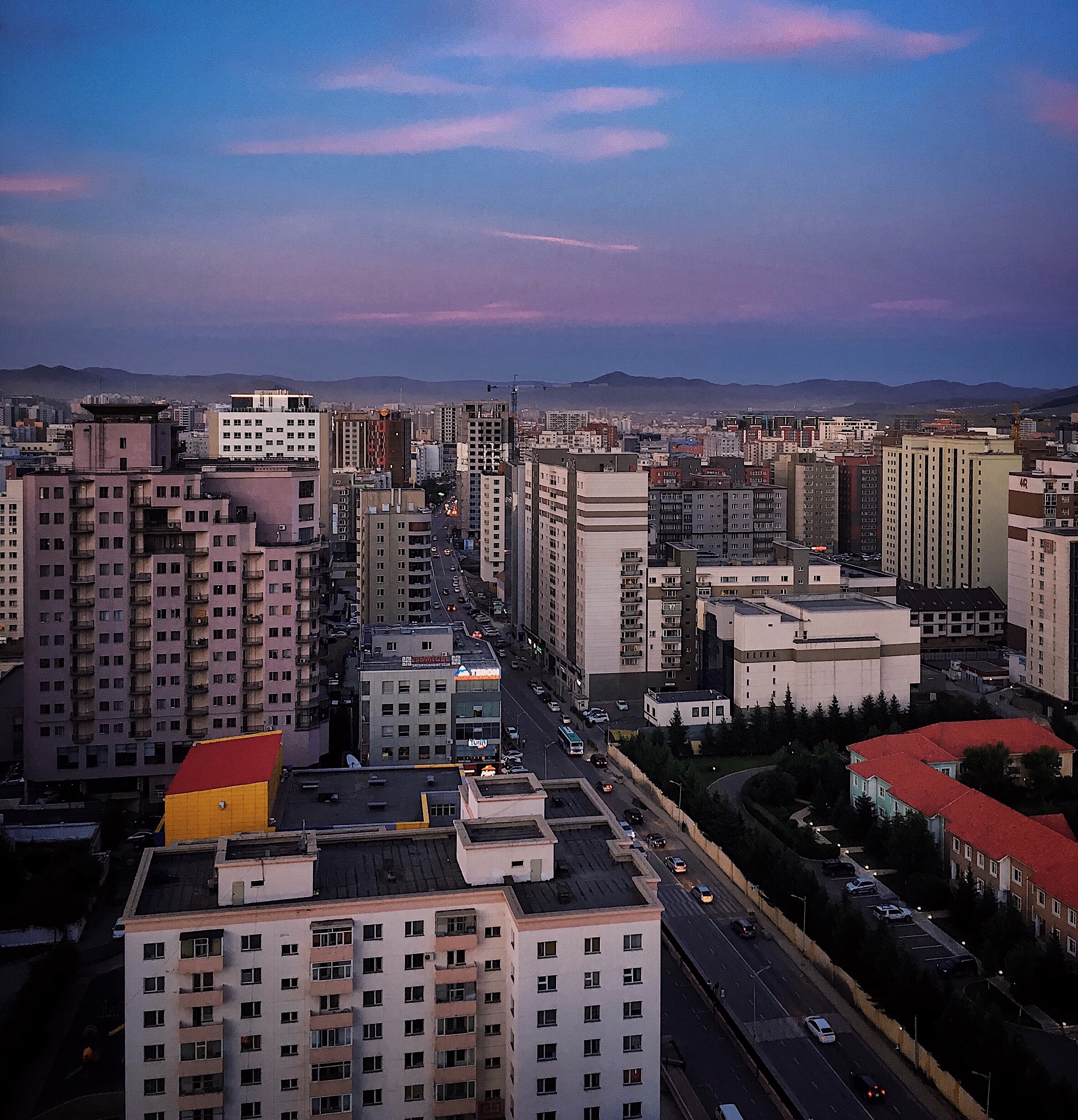 Ulaanbaatar, Mongolia
Seeing this increase in numbers and the actual development that took place all over Mongolia, the government intends to continue supporting the project's financing and will perhaps even lower the annual interest rates to as low as 7% per year as Bank of Mongolia reduced its monetary policy interest rate to 10%.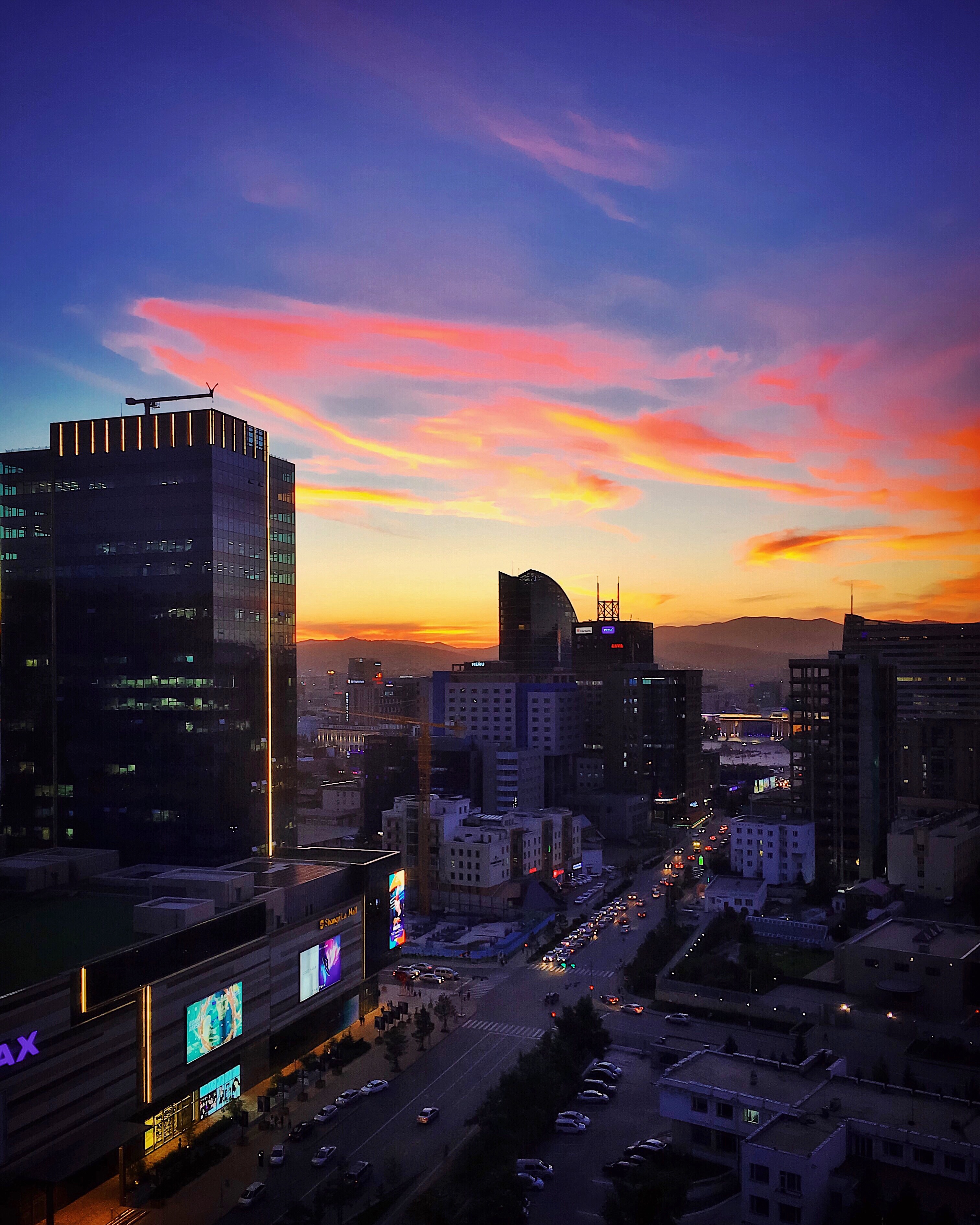 Ulaanbaatar, Mongolia
Oversupply of office buildings in previous years, means occupancy remains comparatively low, albeit, this is likely to change with increased investor activity in the country. Demand for retail space has increased with consumer confidence, however, at the prime end of the market, buyers and tenants remain discerning in their selection of space. The land market meanwhile, heated up at the end of the year in anticipation of potential new holding taxes, especially in central Ulaanbaatar where there remains a shortage of well positioned, unencumbered sites.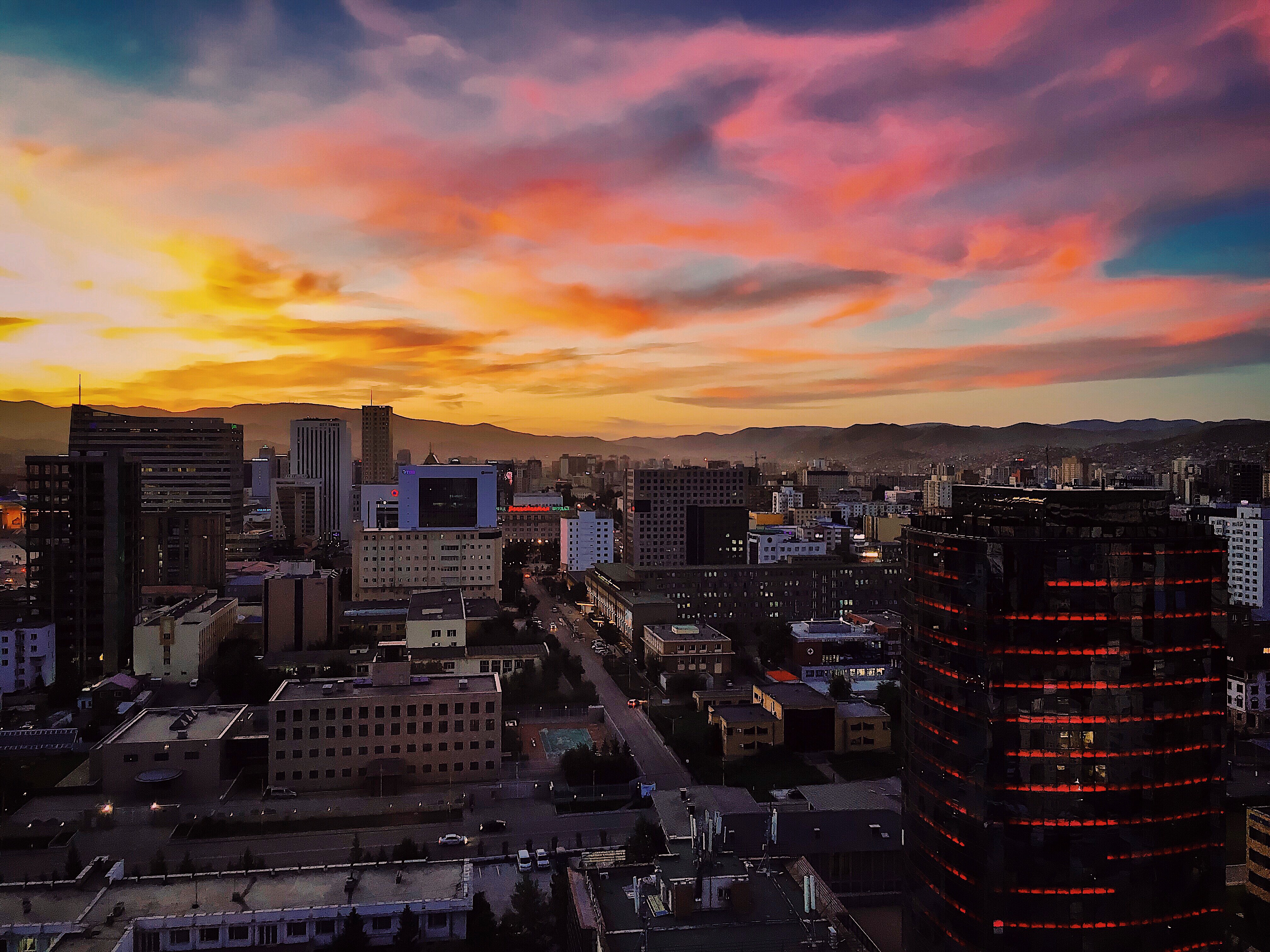 Ulaanbaatar, Mongolia
Meanwhile, Chinese visitors to Mongolia accounted for more than a third of tourists in 2019 in relation to the Hong Kong protests. Mongolia saw a 14% rise in retail sales and luxury products sales and 9% increase in tourism with over circa 678,000 tourists last year.
INTERNATIONAL RELATIONS AND POLITICS
Mongolia and the United States of America issued a declaration on the Strategic Partnership between the two countries and confirmed their shared commitment to expand and strengthen bilateral relations in all sectors, including trade and investment relations, and support private sector-led growth. The U.S. has become the fifth strategic partner of Mongolia.
Mongolia and Russia's prime ministers signed 12 agreements on bilateral cooperation including the Intergovernmental Agreement on Electrical Energy Cooperation, and the countries are cooperating to build a natural gas pipeline in Mongolia, which will connect Russia and China through Mongolia.
The 2020 parliamentary election of Mongolia is scheduled for June 2020. During the plenary session of Parliament, the 2020 budget was approved, and the 2020 budget deficit will be MNT 2.1 trillion with the estimated budget revenue being MNT 11.8 trillion and expenditure MNT 13.9 trillion.
Mongolia signed a USD 1 billion loan agreement with China for the construction of a new central wastewater treatment plant in Ulaanbaatar. Minister of Finance, Ch.Khurelbaatar met Vice President of Export-Import Bank of China, Xie Ping in Beijing to exchange views on bilateral projects.
Export-Import Bank of Korea has signed a financing agreement with the Ministry of Finance and Ministry of Construction and Urban Development of Mongolia to construct 5,000 homes in ger districts of Ulaanbaatar.
The United States Agency for International Development (USAID) is launching a project worth USD 15 million to help Mongolia's SMEs and foster an environment conducive to the growth of SMEs.
REFORM, CONSOLIDATION AND MARKET CONFIDENCE
Mongolia continues to make reforms designed to avoid the excesses of years past.
In 2019, the gold purchase of the Bank of Mongolia (BoM) reached 15.2 tons, which is a 30 percent decrease relative to the previous year. Global gold price increases and increased royalty payments in 2019 resulted in fewer gold purchases by the central bank.
The Mongolian Stock Exchange's (MSE) market capitalization reached MNT 2.6 trillion with total stock trade reaching MNT 139 billion, which is a 16 percent increase relative to the preceding year and four new initial public offerings (IPO) were introduced in 2019.
The Development Bank of Mongolia stated that it revised 14 significant policies, procedures and regulations to improve issues including loan risks and non-performing loans. The bank's total assets reached MNT 4.2 trillion with the capital of MNT 1.1 trillion. The bank has prioritized on supporting non-mining sectors and will continue to do so in 2020.
CONCLUSION
The strong economic recovery since 2017 has been driven by strong fiscal outcomes, improved coordination of macroeconomic policy, favorable global commodity prices and sturdy inflows of FDI. The World Bank forecasts medium-term growth prospects remain positive, largely supported by robust growth in private consumption and continued steady investment in mining and manufacturing. However, there are significant downside risks to the growth outlook emerging from elevated uncertainties in the global and domestic environments including the parliamentary elections in 2020, the potential impact of the U.S.A and China trade deal, recapitalization issues of the banking sector, and slow progress on anti-money laundering issues.
The World Bank's representatives stressed Mongolia has experienced several episodes of high credit growth and household debt has increased as most of the credits were connected to individuals. Therefore, as credit and GDP growth rates are closely correlated, suitable credit management is crucial to economic growth and Mongolia should continue implementation of macroprudential policies to curb excessive and volatile credit growth.