A Mongolian company, Steppe Gold, just listed on the Toronto Stock Exchange (TSX) at a valuation of US$25 million. The exchange- known for its focus on mining- is popular amongst exploration companies. This project, though in its infancy, is viewed as a baby step in developing 140,000 of ounces of precious metals in the first year of production. Perhaps for this reason, Steppe's leadership team have described it as 'low cost, low risk.'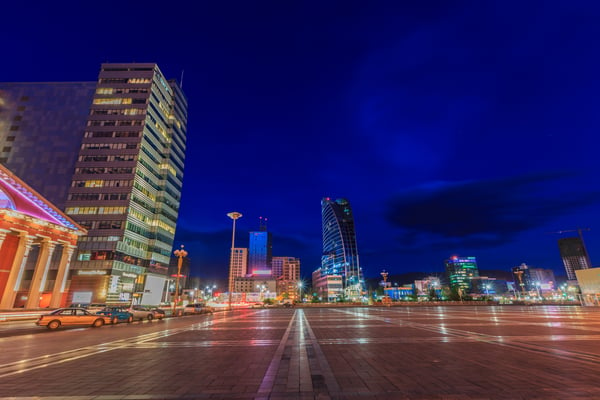 The bright urban center of Mongolia's capital, Ulaanbaatar.
This listing comes at a crucial time in the progress of the Mongolian economy, in which a commodities-based mini-boom is sprouting up after the IMF evened out a tumultuous 2016. Steppe is one of the first Mongolian companies to launch an IPO in the last few years, and serves as good reason to think Mongolia is on its way out of the woods, if not already in the clear. Another Mongolian mining company, Erdene, just launched their IPO on the Mongolian Stock Exchange, confirming the progress of the Mongolian economy and strong returns on foreign investment.[1]
Related: Mongolia Quarterly Update: Q1 2018
Steppe has already been able to attract US$35 Million in investments with the IPO,[2] so it seems it has strong momentum. With its private equity subsidiary, Steppe Capital, reportedly invested in the infrastructure, aviation, hospitality, real estate, luxury retail, oil and gas, and mining industries, Steppe Gold's seemingly appropriate level of diversification protects against excessive exposure to one market over another.
Trading for Steppe commenced just over a week ago on 23 May. With its IPO, the company issued 10,569,185 "Units" at $2.00 per unit, where a "Unit" constitutes more than stock. Each unit includes a Common Share stock of the company. But each Unit also includes one Common Share Purchase warrant, which is usable for a Common Share at an exercise price equal to $2.34 for two years after the IPO closes.
The Company has authorized Agents with the right to buy up to an additional 1,585,377 Units, at 15% of the Units sold in the offering. These additional Units can only be purchased for up to 30 days after the IPO closes and are beyond what was open to non-Agents. The Offering's prospectus also included the qualification of distributing 1,930,815 Units on over one million Special Warrants issued in February 2018—amounting to proceeds of nearly $4 Million.[3]
The Company has expressed no intentions of trying to file a US-Exchange IPO. Necessary SEC filings have been absent until this point, and the prospectus indicates the Company's securities will not be registered with the US Securities and Exchange Commission.[4]
As regards the Company in general, Steppe Gold is a new precious metals company with ambition. With huge potential in Mongolia, a final frontier for precious metals, the company's aggressive growth strategy aims to place it at the top of the Mongolian precious metals market. After a purchase of $21.78 Million from Centerra Mongolia, Steppe owns the Altan Tsaagan Ovoo project, an advanced-staged gold mine, due for production later in Fall 2018.[5] As of 28 May 2018, drilling has begun for this project. Steppe Gold also has acquired two exploration-stage mineral properties.[6]
Other prominent Mongolian mines, such as Rio Tinto's Oyi Tolgoi (OT), are investing much more into their projects—indicating signs of promise in the mid-term, if not short-term. Even in economic difficulties in 2016, OT still made US$1.2 Billion in revenues,[7] which was over 9% of Mongolia's GDP that year.[8]
Mongolia's total mineral reserves sit at over US$ 1.3 Trillion in value,[9] much of which is gold. These mineral reserves make a strong case for the Mongolian resilience that has characterized its people since Genghis Khan. In this greater national context, the price drops in Steppe Gold's Unit from an initial offering of $2.00 to $1.75 per stock[10] within the last few days appear be short-lived.
Source: Wikipedia Commons
At 6 June 2018, the price per ounce of gold is $1298 and has increased over 2% since June 2017. International trade tensions will likely lead to an increase in the USD price of gold, according to some analysts,[11] who argue current US trade policies may lead to greater than 3% inflation for the US Dollar. And in years in which the Dollar inflates by more than 3%, gold investors have historically seen 15% yields on their investments.
With even just one Mongolian mine's estimated 67 Million ounces of gold[12] worth US$88 Billion at current gold prices, the slightest hint of 15% yields is of great encouragement to everyone in the Mongolian mining sector, including Steppe Gold.
Feel free to reach out to us for more investing information for Mongolia via info@apipcorp.com.
[2] Mongolia.gogo (2018)
[3] Junior Mining Network (2018)
[4] Ibid
[6] Mongolian News (2018)
[7] Mongolian Properties Research (2017)
[8] Mongolian National Statistical Service (2017)
[9] Mongolian Properties Research (2017)
[12] Mongolian Properties Research (2017)