As Chinese investments surge into the landlocked country of Mongolia, economic growth enables local companies to enter the stock market, creating lucrative investment opportunities for everyone.
Positioned between Russia and China, Mongolia has abundant natural resources which attract constant trade and investment from its southern neighbor, China. The thousands of Chinese investors and the world's attention on Mongolia's mining industry caused the Mongolian economy to grow at an average of 7.7 percent annually in the past decade.
RELATED: Mongolia 2019 Q1 Update
Mongolia's largest asset has always been its rich deposits of natural resources. A boom in the coal trade in 2017 resulted not only in higher GDP growth than expected, but also a soar in the Mongolian Stock Exchange (MSE) as it elevated the MSE's capitalization and benchmark stock index. Tavan Tolgoi JSC, a partially state-owned coal company, played a huge part in this as its share price has increased almost five times in just one year, making up almost one-quarter of Mongolia's entire market capitalization that year alone. However, the economy's dependency on natural resources and its historical volatility is quickly changing; domestic companies are entering into the stock market, offering another opportunity to investors looking to enter this frontier market.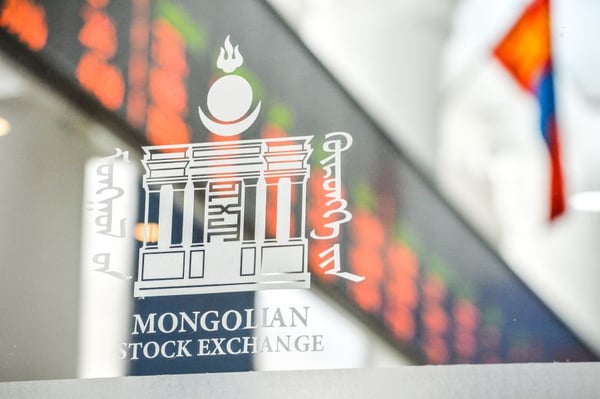 As of today, you can invest in 198 publicly listed companies in the Mongolian Stock Exchange by opening a Mongolian brokerage account to buy stocks in the country. In 2018, 210 billion tugriks worth of stocks were traded, resulting in the market's highest volume ever, exceeding 133.6 billion tugriks, up 174.7 percent from the previous year. This continues the MSE's existing market capitalization growth streak. Out of the stocks traded in 2018, 15 percent, or 31.4 billion tugriks, belonged to the seven companies that entered the Initial Public Offering (IPO) market that year.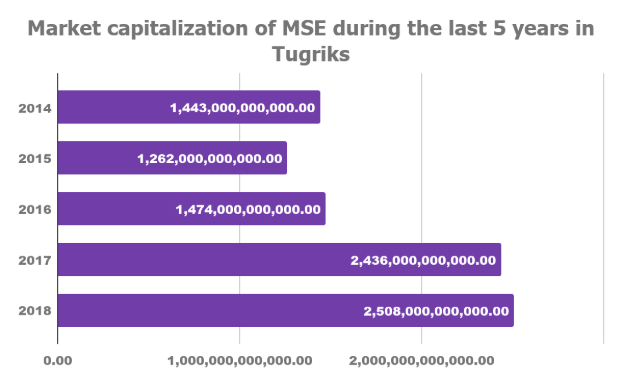 Source: National Statistics Office of Mongolia


The leading IPO stock was LendMN, which issued 200 million shares, worth 5 billion tugriks, in March of 2018. Before raising 5 billion tugriks, LendMN had an IPO subscription of 42.5 billion tugriks; this demand was 17 times larger than the 2.5 billion tugriks worth of stocks offered to the public. In the initial nine months after the IPO, prices rose from 25 tugriks per share to 71 tugriks per share--a 184 percent increase. This boosted LendMN into the top five most traded stocks for the year, which together recorded over 127.4 billion tugriks in trades.
The boom of LendMN has continued through the first quarter of 2019, with the company's valuation rising to 55.4 billion tugriks, making it the 8th highest valued company in the Mongolian Stock Exchange. The company's liquidity has also been robust, with 20.2 million shares of trades in the first quarter, worth 1.4 billion tugriks. In just one year, LendMN became the 2nd most actively traded share in the stock market, right behind APU, the nearly one-hundred-year-old corporation worth of 672 billion tugriks. The success of the first non-banking financial institution listed on MSE not only proved the potential of the market but also encouraged local companies and entrepreneurs to go public.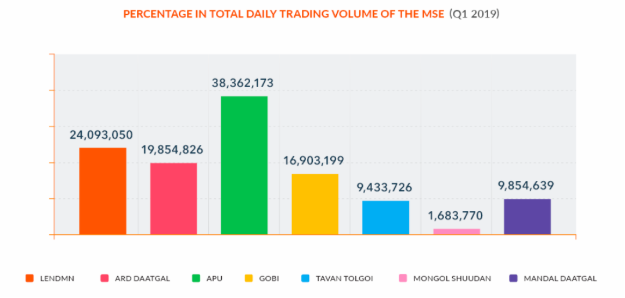 Source: Lend.mn
"Investors are becoming mature and willing to invest in stocks rather than sitting on cash. Companies are also entering the IPO market as it is more favorable exposure to capital as the interest rate of bank loans are high," said Altai Khangai, the CEO of MSE.
In 2019, the IPO boom continued as two companies, "Tumen Shuvuut" and "Ard Insurance" joined the IPO market. Combined, they traded 15.28 billion tugriks worth of stocks, proving the potential to raise immense capital through the stock exchange.
With the recent surge of IPOs, the MSE is beginning to reflect the larger changes in Mongolia's economy. Growth is being driven by an increasingly diverse set of companies, led by those in the fintech industry. At the same time, Mongolia's mining corporations are also thriving and seeking to increase their investment potential by listing on international markets. The Mongolian state company, Erdenes Tavan Tolgoi, decided to list 30 percent of its stock with plans to raise up to 3 billion dollars in a public stock offering in Hong Kong this year. This ambitious plan contributes to the expansion and development of the country's mining industry. Despite listing internationally, this offering will benefit the local investors who already control 15 percent of the company's MSE shares. This may encourage more investors, both local and international, to enter into the Mongolian market.
With a strong recent track record and bright prospects for future listings, the Mongolian Stock Exchange and its constituents are well positioned to capitalize on the country's current growth spurt.