If you are having trouble reselling a property, a little bit of home staging goes a long way and always seems to turn it around. We are here to help you home stage your property in a way that will give it the "WOW" factor and attract home buyers instantly. Here at Mongolian Properties, we specialise in home staging, to help create some of the best interior designed units in the city.
Home staging is not just "preparing the house for sale", it is beyond decluttering and cleaning, it is what comes afterwards, it is about the small details. In a way, it should be identified as a type of art. The art of home staging, will make the house look spacious, brighter, cozy, welcoming and best of all, it will make people want to live it in following a positive first impression.
Rule number one is to create an atmosphere that will appeal to all 5 senses.
Sneak-peak into some of the secrets:
Showcase a generous usage of soft fabrics such as silk, lambswool, satin and velvet.
Display unusual knickknacks in units of 1,3 or 5.
Create cozy nooks (comfy seating) in small corners and odd angles.
Arrange sparse pieces of furniture in an appealing way known as vignette. Vignettes are those "tight shots" you see in magazines—not the whole room, but rather a little grouping that works. It might be an easy chair, table, and lamp all tucked into a corner, or tall plants placed on either side of a wicker settle on a long wall.
Drape window coverings with simple lines.
Add unique elements to shelving, bookcases and fireplace mantels, which draw attention to predetermined areas.
What Accessories and Decorations to Use?
Decorative Pillows
Puffs or Ottomans
Canvas Art
Mirrors
Plants
Floor and Table Lamps
Small Love Seats
Silk Flowers
Luxurious bedding
Ambient Lighting (sconces, pendant lights and chandeliers)
Area Rugs
Scented Candles
Professional Home Staging Tricks and Tips
THE LIVING ROOM
The living room is a place where family and friends spend time together relaxing, visiting and entertaining. Prospective buyers are looking for a living room that's cozy, yet roomy enough for large gatherings. Staging the living room with proper furniture layouts, neutral paint colors and fun accessories will create that special room that buyers want. Follow these key tips which will help you sell:
Identify the focal points, a focal point immediately captures the eye as soon as you walk into the room. The goal is to enhance and draw attention to these special features so that the home buyers will fall in love with your home.
Common focal points in living rooms:

High ceilings, interesting details like a tray ceiling
Angled walls and ceilings, beams, arches, winding staircase; French doors
Fireplace; a feature wall, made up of rustic brick or reclaimed lumber
Large windows with a great view, a gorgeous bay window, arched windows
Built-in bookcases and entertainment centers

Keep key furnitures and areas in neutral warm color tones. Neutral colors provide an excellent backdrop for any colors and patterns that you will be adding with furniture, draperies, artwork and accessories. Added color will simply "pop" against a neutral canvas.
Decorate with area rugs- an area rug will add color, pattern, texture and warmth to your living room designs. Rugs unify all the furniture placed on top and help to define separate areas.
Furniture should be placed into conversation groupings. Place a sofa across from another sofa, or two chairs (of equal visual weight) facing or perpendicular to it.
THE KITCHEN
The idea behind a successful home staging is to allow the rooms to showcase themselves. For example, follow these tips for the kitchen aka the heart of the home, as the kitchen is one of the biggest selling points of any home.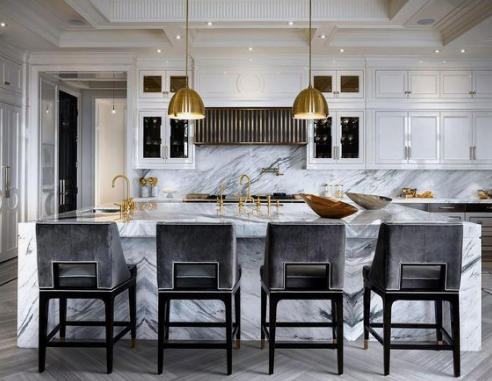 Apply crisp scented oil (such as orange or lemon) to cabinets that appear dry which will renew their original luster and give off a refreshing scent.
Put out large bowls of fruit such as polished apples, bright oranges, luscious grapes
Leave nothing on the counters but a cookbook, fruit or decorative items.
Set the island/bar where you have bar stools set up place setting for each seat, this will draw attention to the great selling feature and make the space feel inviting.
THE BATHROOM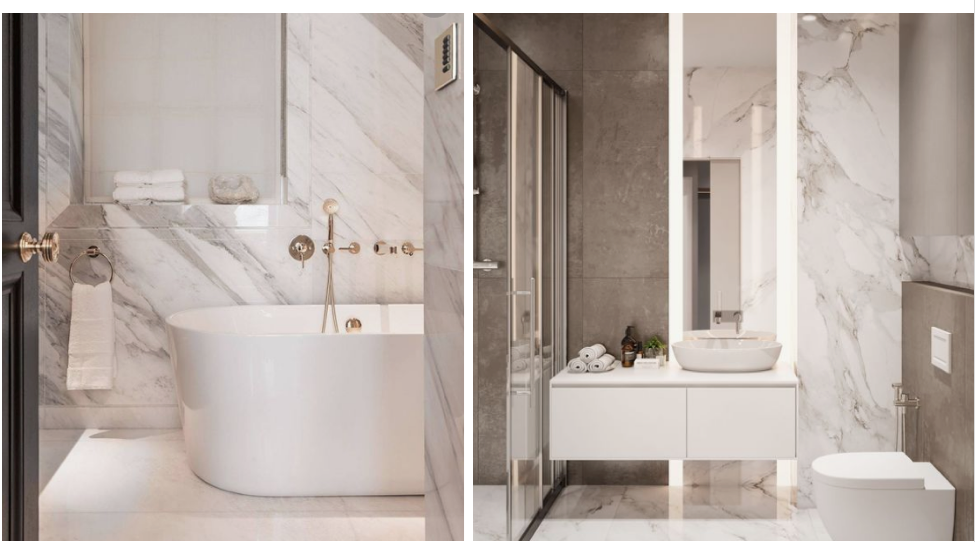 Follow these tips for the bathrooms, as they are also an essential part of home staging. It is common to see homeowners put a lot of attention into staging the main living areas of the home, but then brush off the bathrooms. This is a big mistake! Staging a bathroom can also help sell your home if certain touches are added to make them feel more luxurious and spa-like.
Use crisp white towels that remind people of a luxurious hotel.
You can also roll up some hand towels tied with ribbons in place them in a basket
Use scented soaps and candles
Add a basket filled with spa treatments.
THE MASTER BEDROOM
One of the most challenging rooms to stage can be the master bedroom. On one hand, you want to create a private, intimate ambience—but it also can't feel boring and isolated. Here are some tips to keep in mind while staging your bedroom:
Paint the room in calm or neutral colors. Beiges, grays, blues and soft greens are relaxing choices for a bedroom.
Don't overfill the bedroom, clear all the clutter from the room. There should be nothing on the
Don't overfill the bedroom, there should be nothing on the floor other than the furniture and nothing on any of the furniture surfaces. This includes, removing the TV, family photographs, stuffed animals and other personal items.
Make it restful. Invest in a headboard to make the bed look more elegant and dress the bed in duvet cover and pillows that coordinate with the wall color.
Plase lamps on the night stands.
Hang one or two pieces of art on the walls.
Place live potted plants in the room.
Throw colorful pillows on the bed to add some visual interest.
Although staging takes a bit of time and effort, it can make a significant difference in your ultimate selling price. You can either take on the job yourself or hire a professional stager to set the scene. Either way, it pays to have a licensed real estate agent to consult with throughout your selling process. A good real estate agent will know which features in your home are worth highlighting, and will know your local competition and demographic.
RELATED: GUIDE TO HOME RENOVATION